Does The Explosive Bombardier Beetle Have The Most Interesting Genome?
Published: Monday, March 27, 2017 - 9:00am
Updated: Wednesday, March 29, 2017 - 1:08pm
A Sonoran Desert insect with a toxic defense mechanism is a candidate for having the world's most interesting genome. A University of Arizona researcher is campaigning for it to win that distinction by an online vote.
The nearly half-inch bombardier beetle is native to Sonoran Desert riparian habitats. What sets it apart is its self-preservation mechanism – a boiling hot chemical cocktail that the beetle spews from its abdomen directly at predators such as frogs.
UA entomologist Wendy Moore studies the critter, which lives in Madera Canyon south of Tucson. While many beetles have chemical defenses, Moore said the temperature of the chemicals sprayed — higher than the water boiling point of 212 degrees Fahrenheit – is unique to this species.
"By having the genome of the bombardier beetle, it would be the very first genome for this huge family of carabids where there is 40,000 described species," Moore said.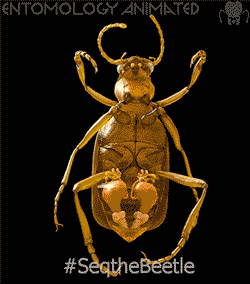 The bombardier beetle is one of five fauna vying for top prize in a genome sequencing competition. It's up against a dancing dingo, pink pigeon, sea slug and pit viper.
Moore is campaigning for her beetle to win the competition because "these smaller organisms are by far the most diverse in the world and have a lot of mysteries that we need to unravel."
You can cast a vote for the bombardier beetle to win the genetic sequencing.
The team started a social media campaign to rally support behind the beetle's bid for genetic scrutiny, using the hashtag #SeqtheBeetle.
How The Beetle's Chemical Reaction Occurs
Like Arizona Science Desk on Facebook